The Most Popular Myths, The Work of a Programmer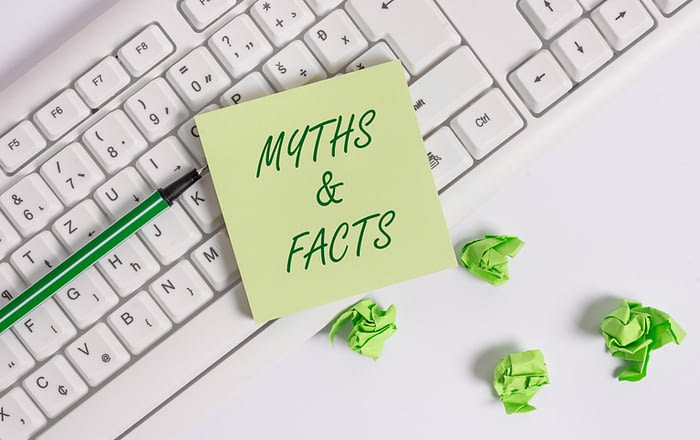 For many years, the programmer has been at the forefront of the most popular professions. No wonder that many myths have been created about this profession. These can sometimes very much colour the work done by coding specialists.
A programmer is often perceived as extremely attractive, very well paid, and for many outsiders a typical programmer is a maniac, loner and spends the whole day in front of a computer. However, many common opinions have nothing to do with reality.
In fact, by writing gently, people miss the truth. We have prepared a short summary of the four most popular myths. Some of them evoke programmers' surprise and sometimes even their laughter.
Every programmer earns a lot
If only, this rule applies to all industries and IT is no exception. Programming is not a lonely island, where every coder lives a life with luxuries and affluence in abundance. The level of earnings in the sector are very diverse and depend on many different factors. As with many professions some developers earn a lot, whilst others a lot less.
If someone thinks that he or she will be in the first group after graduation, they may be seriously disappointed. Of course, there are exceptions, but these are not set in stone. If a programmer, despite their young age, can however show very high skills, it is possible that they will get a high salary right away.
On the most part you need to be patient, work on your personal development by broadening your knowledge and qualifications frequently if you wish to earn more money and have a better position. In a greater position of responsibility will come a larger pay packet.
But there is something else to consider and that is the type of technology that you specialise in, there are some niche areas that can boost your salary further so if you are looking for a career in this area do your research and establish what you wish to achieve.
The programmer is just a man
A dozen or so years ago, we could wonder if this is really a myth or fact, but lately the situation in this profession in terms of gender has changed significantly. More and more women appear in the IT industry, and many of them specialize in coding. This upward trend is shown in the report prepared in 2018, which shows that 48% of women surveyed have a strict education, and the average age of respondents is just over 29 years.
Women are now working everywhere in the industry and in a diverse range of roles and responsibilities. Women are certainly not afraid to break stereotypes and have boldly entered the IT industry. What's more, it turns out that women work very well in coding. According to a report based on data from GitHub, pull requests sent by women were accepted more often than those sent by men.
The programmer must finish their studies
The truth is that completing and having an IT degree can make it easier for you to pursue a career, but it is not the only way to work as a programmer. Key criteria for many employers when looking to take on new staff is a degree of competence, skill, knowledge and experience in programming. Completing your studies is not a guarantee of success as their absence could be a barrier that prevents you from getting a good job as an encoder. In some companies even one-third or one-quarter of team members do not have an IT education.
The programmer is an eccentric loner and workaholic
This is a myth created mainly by American films that like stereotypical presentation of representatives of various professions, including programmers. You can agree with the statement that such people sit for many hours in front of their monitors, but also for them it's an increasingly important work-life balance. Sometimes, of course, it is necessary to work overtime, but this can be said of many industries. The myth is programmers are loners, but more often than not, the industry is looking for people who are able to cooperate with other team members, that are communicative and can be a solid employee within that team.
Of course, other myths about programmers can be found in our society, but we have limited ourselves to the most frequently repeated ones.